On the second episode of new Comedy Central stand-up show The New Negroes, comedian and cohost Baron Vaughn tells a story about getting lost in a neighborhood as he's looking for a party he's supposed to attend. He doesn't know which house to go into. The idea of knocking on random doors frightens him because, as a black man, he imagines people will assume he's a criminal. Rapper and fellow cohost Open Mike Eagle says, "What you're describing is a phenomenon called 'double consciousness'—living your life through your own eyes, but also feeling responsible for how other people see you, which might make you change the way you act."

In the short minute-and-a-half opener, the duo talk and joke about "double consciousness"—a concept W.E.B. Du Bois introduced in 1903—with a balance of silliness and thoughtful dissection, which sets the stage for their show that's about expanding your mind and making you laugh. This environment creates a platform for comedians and musicians to discuss the changing black identity in 2019 in an honest and insightful way. After all, the title of the show was inspired by Renaissance-era book The New Negro, which sought to challenge stereotypes in its time and forge a new holistic black identity.

"We're trying to deal with the nuance of issues," Eagle tells Playboy. "That's where the show comes from. Trying to present black culture and black entertainers as not a monolith, but showing the nuance."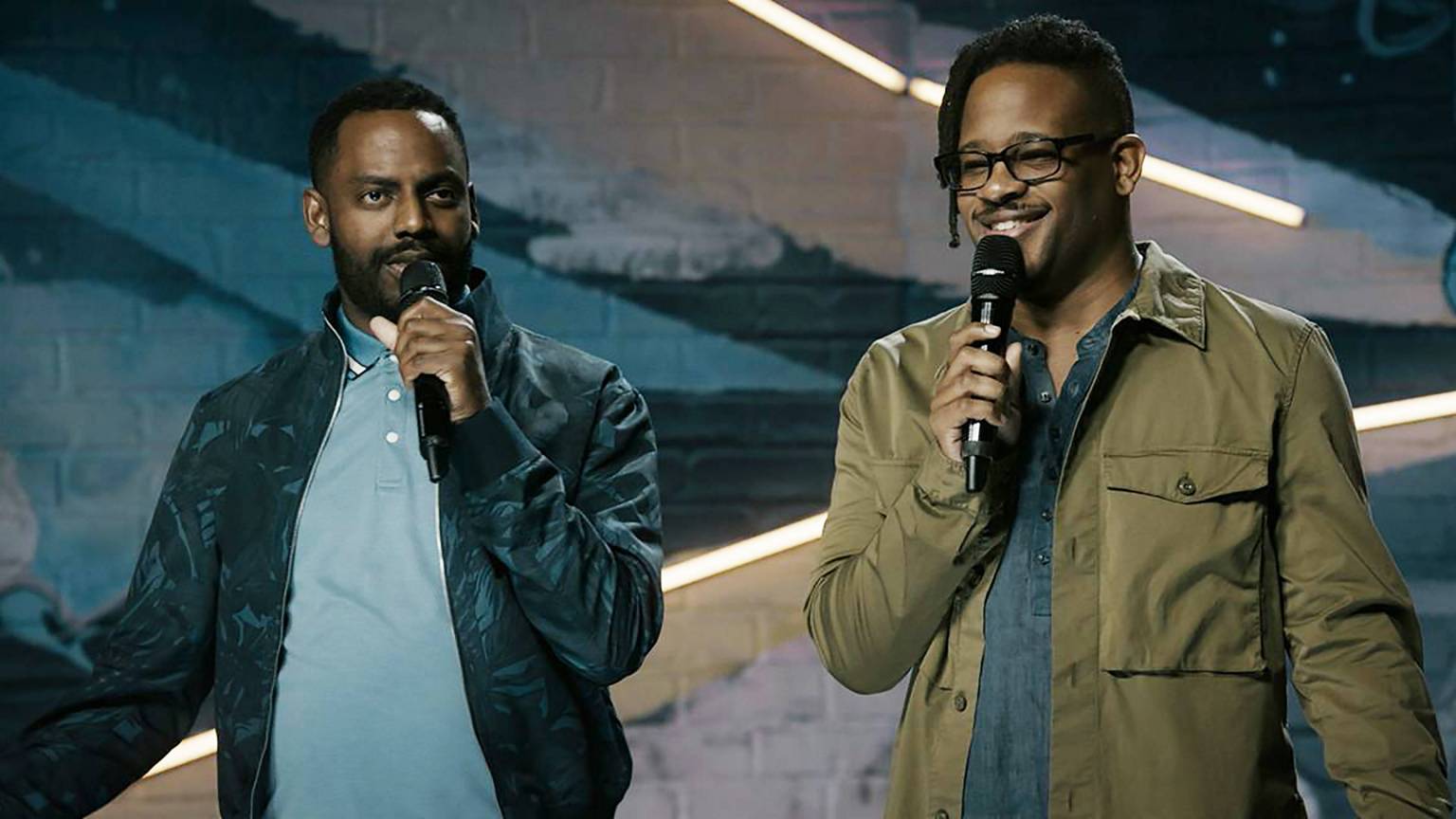 Each episode has three comedians, all with very distinct perspectives that might even contradict one another, and a final music video. Eagle does the song, with a special guest rapper joining him. The video generally communicates something that involves the episode's theme. For that particular episode, he and guest MF Doom rap about how he unfairly treats himself as "suspicious black man," and has a mini police officer inside his head judging and monitoring his actions in public. "I ride clean, but I still feel filthy as sin," Eagle raps. It closes with the very not-funny moment of him talking to his child about how, as a black boy, he has to be extra careful to not be seen as a troublemaker. The camera zooms in and shows his son developing a mini police officer inside his own head.
"We are trying to find succinct ways to make complex ideas palatable—not necessarily even to others, but to us," Vaughn tells
Playboy
. "There's no easy answers, but since we live with them, we're trying to depict how it looks."
Both hosts are accomplished and come from different fields. Vaughn is a goofy, emotional, socially conscious comedian who likes to challenge audiences' ideas about themselves and the world at large. In a 2013 Comedy Central special, he talks about the history and prior meanings of the words "hello" and "goodbye." ("On some visceral level, 'hello' means I'm scared, and that's what we're saying to each other all the time.") In addition to
acting on shows
Grace and Frankie
and the 2017 revival of
Mystery Science Theater 3000
, he produced a vulnerable documentary
Fatherless
for Fusion TV about growing up without a dad.
Eagle is one of indie rap's biggest names right now. His style mixes comedy, personal expression and intellectual social criticism, often through contradiction and juxtaposition. On 2014 song "Qualifiers," he raps, "Fuck you if you're a white man that assumes I speak for black folks/Fuck you if you're a white man who thinks I can't speak for black folk." Stand-up comedy, he says, is one of the big influences on his music.
Her new album is upon us, but can the music industry's most fearless artist finally break through?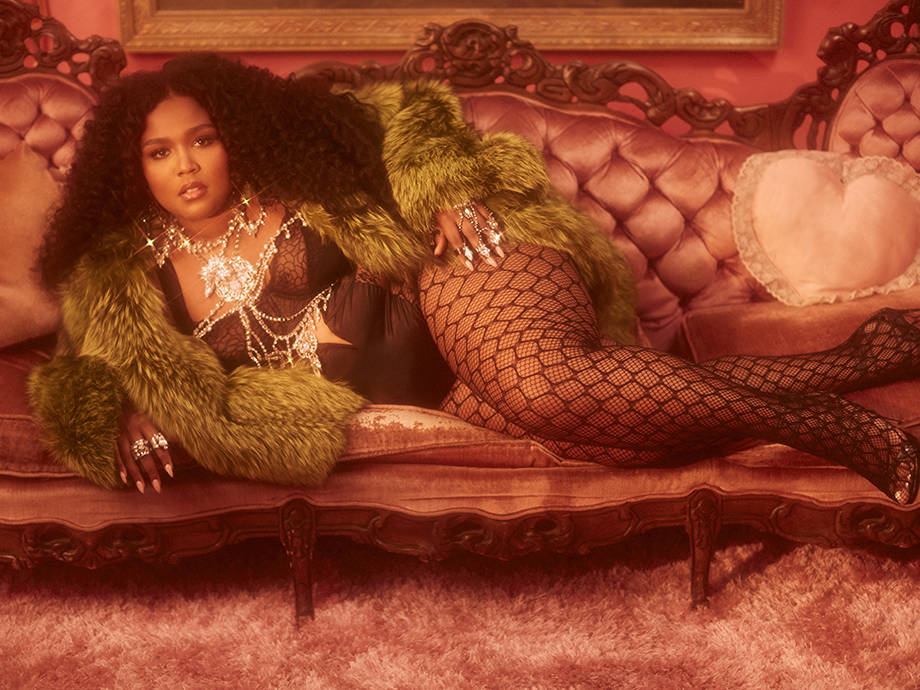 The New Negroes is very much an extension of these two guys. "I don't think there was any way we were going to make the show that didn't attempt to address social issues," Eagle says. "It's who we are."

The two met years ago at a rap battle—Vaughn's team won. Eagle was so humiliated to lose to a comedian that he gave Vaughn a copy of his album Rappers Will Die of Natural Causes as both a token of submission, and to show that see he can rap. "I was very embarrassed. I was like, 'Here, take a little piece of myself,'" Eagle says. Vaughn was amazed by Eagle's album. They kept in touch. They brought each other on to their podcasts, did a couple deep-dive interviews and became close friends.

In 2014, Vaughn put together a comedy-variety show for the Bridgetown Comedy Festival in Portland called Baron Vaughn Presents: The New Negroes. He liked the title because it was provocative, but also he hoped people would take a moment and understand the origin of the phrase to fully grasp its history and deeper meaning.

The original version of the production had him among a panel of rotating hosts. Eventually he realized that his chemistry with Eagle, who had been one of these hosts, was best. He brought it to L.A. in 2015 and tinkered with the show, so it would be just the two of them as cohosts with rotating comedians doing stand-up sets, and with Eagle closing the show out with some music.

The two worked the show for years at the UCB Theatre in L.A. Vaughn knew he had something as he saw the energy it was creating. There was a scene build-up around the project, with comedians wanting to hang during and after the show, not even trying to get stage time. He had a vision of taking New Negroes on the road to different cities but took a sharp left turn and talked to Funny or Die about getting it on the air, which landed them on Comedy Central. The TV show is similar to the live production, except that it's shorter, has fewer comedians and Eagle's closing musical productions are elaborate music videos.

When Martin Luther King Jr. says it, it sounds amazing … but when Clint Eastwood says it—that's an awkward-ass audition.

Back in 2015, after having done a few productions of
The New Negroes
, Eagle hadn't thought twice about the title. Then, he heard his manager, who is white, say the show's title, and the rapper had a reaction. "He said it, and it felt differently than when Baron said it," Eagle says. "My experience of it in that moment was surprising to me. Suddenly I felt like I had a discomfort I needed to talk about, talk through."
They tackle this on the first episode of the TV show. Eagle expresses his unease about the show's title and half-jokingly worries about the wrath of Black Twitter. Vaughn agrees that context is important when using words that have a complex history. "When Martin Luther King Jr. says it, it sounds amazing … but when
Clint Eastwood
says it—that's an awkward-ass audition," Vaughn says on the show. Their concern about social-media backlash is understandable. Today's climate is very reactive, and it takes a few minutes to understand why they named the show
The New Negroes
.
"The word 'negro' is one that a lot of people don't know how to feel about. For some people, it's just a very upsetting word no matter how you position it or how much context you provide around it," Vaughn says. "However, our title is
New Negroes
. And that phrase is its own thing, separate from the word 'negro.' Our show is titled after that idea and less about that specific word."
The 1925 book
The New Negro
, where the show gets its name from, is an anthology collection of essays, fiction and poetry by African-American writers. It set out to challenge stereotypes by letting black people tell their own stories, and to show a diversity of voices and perspectives. This is exactly the purpose of the TV show. That's also a key reason why he never tells any of his guests what they can and cannot say. He wants to provide a place for them to express their truth and identity.
I don't think there was any way we were going to make the show that didn't attempt to address social issues. It's who we are.

"We are putting black people on television and showing all the different kinds of talent and perspectives. That's always been [what] the thesis statement of the show is," Vaughn says. "The title is provocative. But my intention was to make people think What does that mean? instead of Why would you say that?"

Since the show is based on a book that's almost 100 years old, how is it relevant for 2019? The duo sees the show as the next logical step for what black people were dealing with in the 1920s. A hundred years ago, Eagle explains, black people were fighting to be seen as human beings, and no longer as property.

"I think our struggle now is, it's against the stereotypes," Eagle says. "When a black man is killed by the police, some people's first thought is What did that person do? rather than Oh, my God—that person had a mother that lost a son. That has to do with stereotypes that create a distance in our cultures. Part of what we're trying to do is show different perspectives, so people can relate across culture to other people. And hopefully open a dialogue."

Vaughn brings up a point about the show being a place where black people have the freedom to tell their stories and have a guiding role in weaving the narrative of the changing black identity. He sees The New Negroes as part of a new wave of television shows doing this.

"There is a flourishing of all these different black perspectives, like Insecure, Atlanta, Random Acts of Flyness, Black-ish, Empire. All have very different perspectives. Our point is to acknowledge these different things black people are dealing with and how we see ourselves in culture. That's shifting and changing," Vaughn says. "Everyone has a different experience and a different level of understanding. Being able to acknowledge all the things is part of the key to understanding each other."

With these perspectives that they're putting out, they want to be clear that just because the first word of the title is "new," it won't solely be new voices. They'll have up-and-coming comics, seasoned veterans and everyone in between. They see this as a snapshot of 2019 on the discussion of the changing discussion of black identity.

"When it comes to comedy and music, these are all the perspectives that are happening right now in the world—regardless of age, regardless of gender, regardless of sexual orientation," says Eagle. "Presenting the full spectrum is the strongest thing that we do."

The hard-to-classify musician, who counts Snoop as a fan, tells Playboy about his unlikely rise