Frank Lopes paces on stage fitfully while barefoot and wearing brown cut-off pants, the kind you'd imagine Tom Sawyer in as he hangs his feet off a pier for a fruitless day of fishing. His leisurely pants are contrasted with a button-up shirt that looks like a rainbow civil war, as lines and shapes separate battling colors with virtually no logic.

"This next song is about how I feel weird all the time," the Sacramento alt-rapper who goes by the name Hobo Johnson tells the crowd, before he and his five-piece band, the Lovemakers, launch into their next tune. Lopes can't settle, exactly. He radiates something between relief at having just cathartically released all his deepest, most uncomfortable secrets, and a nervous twitch as he gears up to do it all over again.

The crowd of a thousand people at San Francisco's historic Fillmore nightclub—a majority of which are women—are mesmerized by him, hanging off his every word. I'm struck by the lack of phones in the audience—it's the least I've seen at a show in over a decade. Those fans who have theirs out are aiming them at Lopes, with the hopes of capturing the magic of the moment for all of eternity.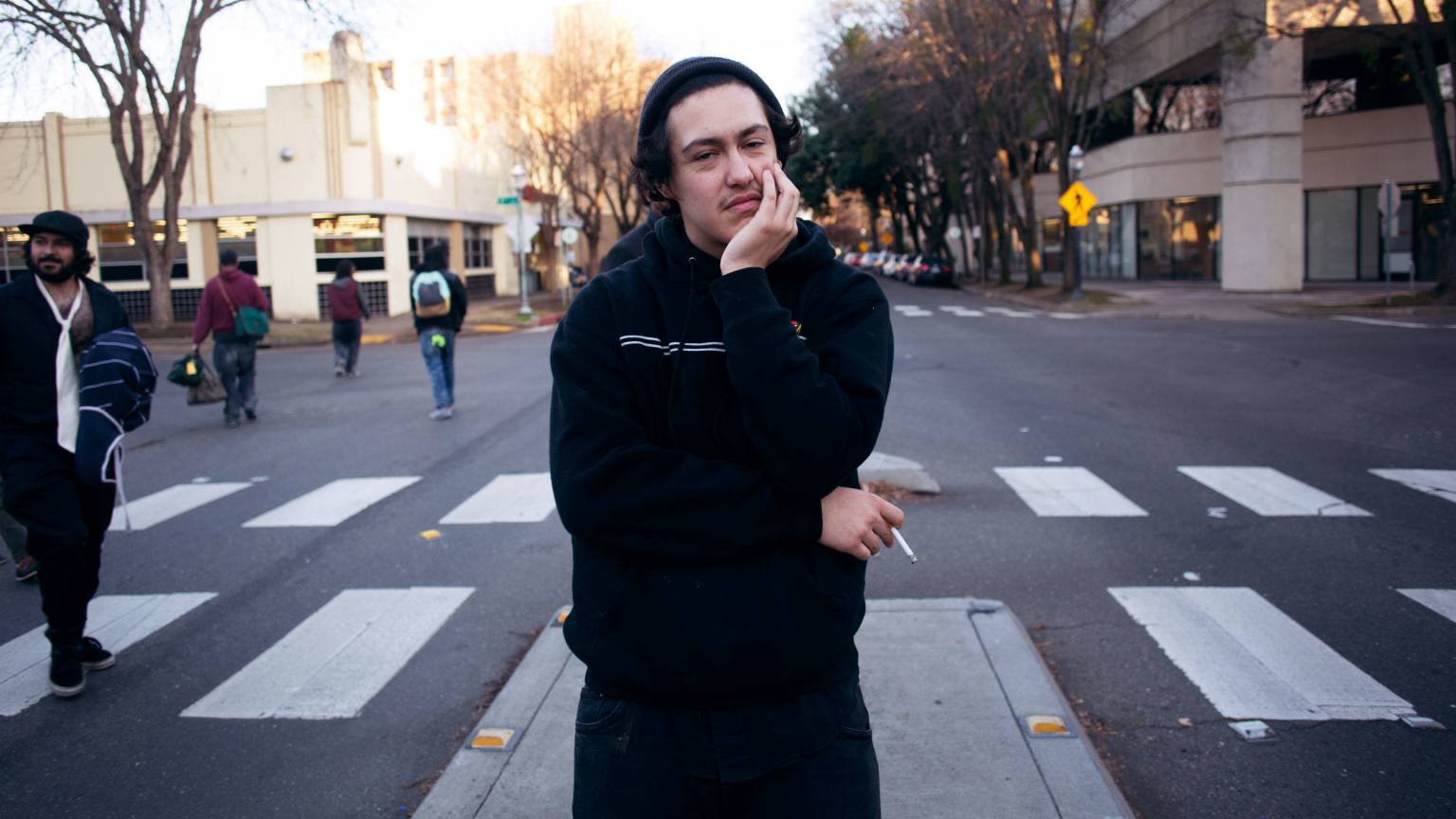 Someone shouts "I love you, Frank!" but it's not the first time. It's become routine at this point in the show. Once the Lovemakers start to play, the entire crowd raps along to the words, just like they have for every song thus far. This one isn't even released yet, so I assume they all fanatically dug through YouTube for any clips of new songs.
Just a few nights earlier, in San Diego, a woman interrupted Lopes' performance by shouting "Frank, you saved my life." Nervous laughter turns into enthusiastic applause when Lopes stops playing for a moment and tears up at the emotion of what she just shared. This isn't the first time he's heard this. In fact, at almost every show he's played this and last year, someone has come up to him—usually after the performance—to express this very sentiment. Lopes has made himself available to his fans after his shows and has spent sometimes hours talking to them and hearing their stories.
"I feel so grateful because I feel like other music has saved my life, so now there's a certain responsibility to help and to be the best person I can be," Lopes tells
Playboy
at the Fillmore before his show that night. "I'm finally in a position where I can help mass amounts of people."
He's a difficult artist to classify. His music isn't exactly rap, though that seems to be the closest genre that makes sense. In fact, earlier this year Snoop Dogg, a fan, posted a photo to his Instagram of Hobo Johnson's debut album, alongside The Notorious B.I.G.'s
Greatest Hits
,
Enter the Wu Tang Clan
and his own album
Tha Dogg Pound
. If the implication is Hobo Johnson is a legend in the making, he's a pretty weird one, with prominent elements of rock, indie, folk, emo and punk, though none of those labels quite apply, either.
Playboy joins the polarizing rapper on tour to talk haters, label woes, Cheetos and ex Noah Cyrus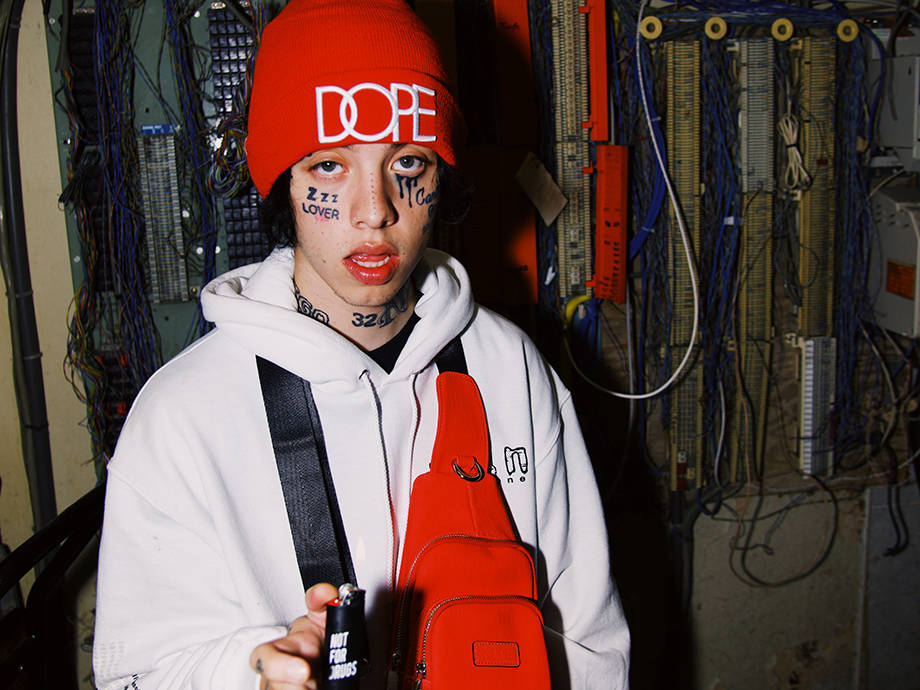 "I don't get compared to Chance [the Rapper] that much, or
Kendrick [Lamar]
," Lopes tells me. "I get compared to, like, Conor Oberst and a little bit of Daniel Johnston."
His words are raw, though rarely direct. He pours over his thoughts, anxieties, bouts of depression, his parents' divorce, his insecurities and failed relationships, often grabbing for the nearest metaphor and spiraling around the darkest crevices of his most troubling emotions, inspecting them from every possible angle.
His entire career launched from a single viral video in the spring of 2018. From it, he's been selling out rooms all over the world, and even recently inked a deal with Warner Bros., which he settled on after a bidding war with literally every major. His major-label debut album is tentatively expected out sometime this spring or early summer. "I had to pick the one I thought cared about my message the most," Lopes says. "We have leverage. We got a fan base without a record label."
Somehow, despite this deep connection he's forged with his audience, this incredibly DIY-built career and impressive success story, he manages to remain largely under the radar. Until just recently, it seemed that no one in the media had been clamoring to write about him. I'm an exception because I'm also from Sacramento, and I've been watching his career since 2016, when I first interviewed him for the local weekly newspaper
The Sacramento News and Review
. I am literally the first person to ever interview him, back before he had a fan base to speak of.
I saw him develop from an insecure young artist to an impressive force that took our city by storm, and then launch onto the national stage to surprising results. What he had to say, a lot of people wanted to hear. But with a viral hit comes the pollution that is the internet. His haters somehow see him as a whiny hipster kid. "I'm so outwardly open about how I feel. I think that people who feel similarly will dig into it, but I think some people naturally make this click where it's like, 'Oh, I don't want to feel that,' or are too cool," Lopes says.
It didn't transform me into a happy person. It fucking freaks me out. This is my dream come true, but there's still this war inside my fucking brain.

The song that launched Hobo Johnson is called "Peach Scone." Lopes had been playing music in Sacramento actively for a couple years and was trying to find a way to reach a larger audience. "Peach Scone" wasn't the thing that he thought would do it. It was an old song he dusted off from his years as a solo artist slinging CDs at open mics, while he played loops on his keyboard to rap over.

He and the Lovemakers shot a video for the song as part of the NPR Tiny Desk concert. It was filmed in a friend's backyard, with a table instead of a desk. Almost instantly, it went viral. The song is probably one of his loosest, kind of a cozy-campfire, single-string guitar lick and lazy drum-beat jam while Lopes tells a story of a girl he has a crush on who has a boyfriend. Most of the lyrics are his internal thoughts of dealing with the reality of her situation, realizing he needs to respect their relationship and even pause and inspect his selfish motives ("I love the thought of being with you/Or maybe it's the thought of not being so alone").

The song is so emotionally raw, and unusual in its angle, that a lot of people have misinterpreted it to suggest that he's talking about being "friend-zoned." Memes and parody videos have cropped up online depicting Lopes as a stalker and a whiny entitled man. "They're saying I think I deserve to be with this girl, and I'm mad about it. Literally, the whole song was about the opposite," Lopes says. "It's about not saying anything, and you guys go be happy and find someone that makes you happy."

The video is modest in terms of what constitutes a "viral video" these days, with about 11 million views on Facebook video and 13 million on YouTube. But its effects are quite unusual, with a high percentage of the views belonging to what ended up being Hobo Johnson fans. Almost instantly, he was able to build a team around the "Peach Scone" success. He booked several shows internationally, many of which sold out the day tickets went on sale, and was in talks with major labels almost instantly. He took his time signing to get the right deal.

He also happened to have an album already released called The Rise of Hobo Johnson that he'd put out the previous November. It was suddenly seeing some noticeable sales globally. "Peach Scone" isn't even on the record, yet his fans loved it because for them, it wasn't about a single song; it was about everything he was talking about in his music.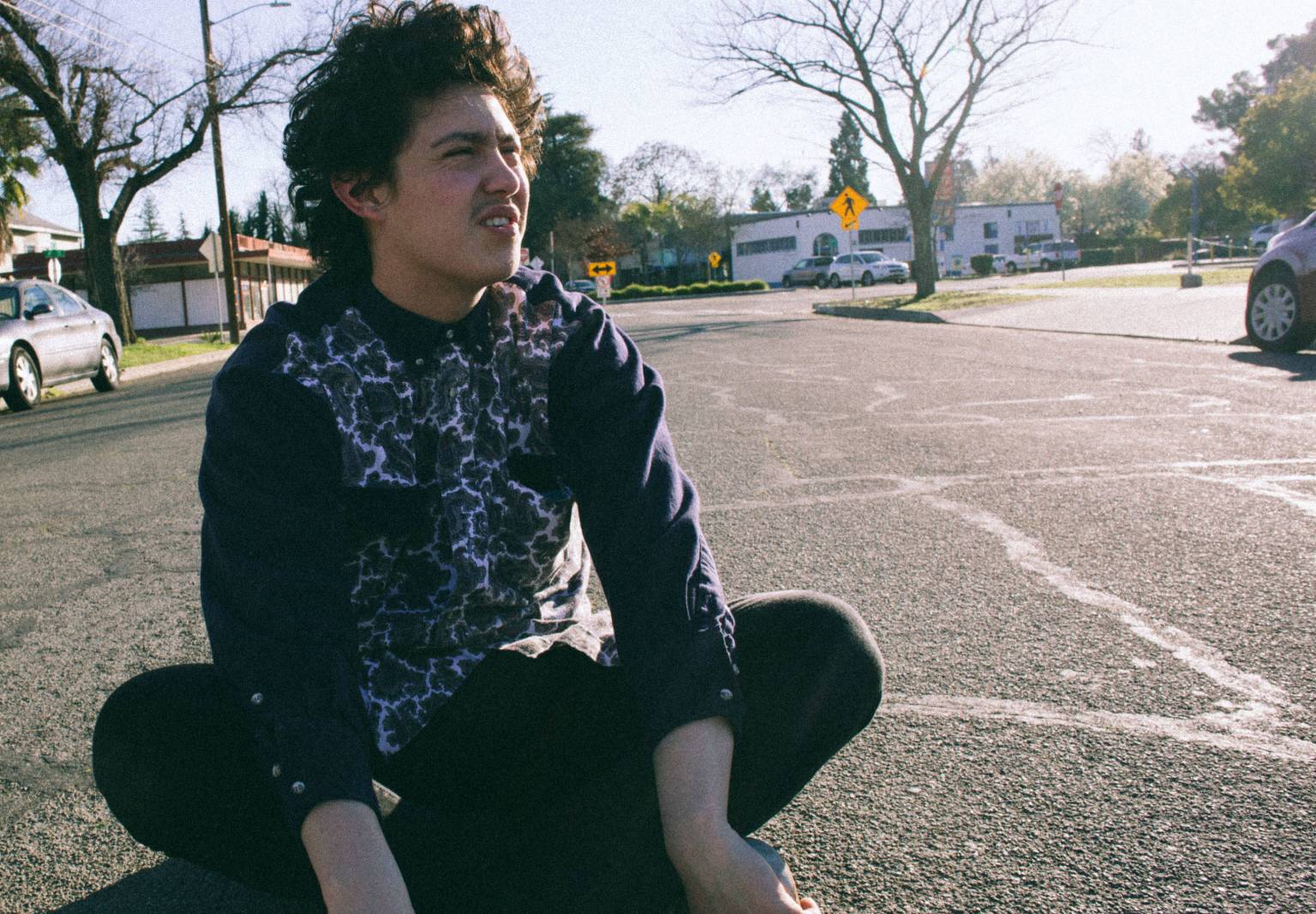 The record is an honest, blunt expression of all the dark corners of his mind, including rejection ("I'm gonna be alone forever/But I'm getting used to the thought/Except late at night—so maybe not"), physical insecurity ("I have really bad bacne/It looks like the gosh-dang night sky/And I really need to take care of it") and his dysfunctional parents ("He told me son you'll never dunk/It's family traditional basketball is not for us.").

"I make this music first and foremost because if I don't, I'll die," Lopes says. "A lot of it is for me to get my feelings out. I have no other way to express it. Otherwise, I'd jump off of something. That's what makes me feel good because it's expressing the crazy fucked-up feelings I feel."

He never spent a dime boosting the video, and other then a bump he got from LADbible, the views and shares came organically from people who just loved the song. Lopes got his first taste of this success via a show at small San Francisco venue Bottom of the Hill that he booked prior to the release of "Peach Scone." The show suddenly sold out once the song went viral, and that night, he began his tradition of talking to his fans for hours after the concert. One girl that night told him she had plans to kill herself, but his music brought her to tears, and she felt like she wasn't so alone in her dark feelings. So because of Lopes, she chose life.

He expresses loneliness masterfully because he doesn't just say he's lonely—he sees it in 3-D talks about the tiny cracks and crevices of it. "I think it's something that everyone feels. And that they're just going to be alone, even if there was somebody," Lopes says, then comments how even with his success, he still struggles with anxiety and depression. "It didn't transform me into a happy person. It fucking freaks me out. That's going to be talked about on the next album. This is my dream come true, but there's still this war inside my fucking brain."

Of course, the internet being what it is, Lopes saw an unusual amount of hatred aimed in his general direction when he first went viral. Entire Facebook groups popped up to make fun of him. In one, I Will Destroy Hobo Johnson, it was getting so out of hand that people were doxing his mom, and reposting things Lopes tweeted at age 14 to angrily hold it up as proof that he was some shitty person. It got so bad that Lopes called the administrator of the group to ask him to at least curb the darkest edges of the vitriol.

I'm starting to really feel like just a complete outsider to all of the genres. I don't fit in anywhere.

"The internet is so beautiful and so terrible because anyone can say whatever they want and create these communities through it, and that's fucking dope, and it's also really bad," Lopes explains. "I said, 'It's your right, but think of me as another person that has to feel the effects of what you're doing.'"

When I ask him how he handled living through that level of hatred, he says he's not even sure. "I was just fucking freaking out all day. I just sat through it for a couple months. Then it went away," he says.

Add to that, another strange issue happening at the time: There were protests locally in Sacramento. At his first show post-"Peach Scone" success, a small group of people stood outside the venue and accused him of cultural appropriation and not giving back to the community he "stole from." That community is Oak Park, a historically black Sacramento neighborhood. When he started his career as Hobo Johnson, he released some videos called "Live from Oak Park," where he was living at the time. Later, Sacramento publication Submerge Magazine ran a piece on him in May 2017 dubbing him "The Pride of Oak Park."

He made a public apology for "any of my actions that have shown that I don't care about the people of Oak Park." But he never pushed to represent Oak Park. I know because I've interviewed him several times over the past two years, and he never uttered the words "Oak Park" to me. I also know from experience that artists don't have much say in the headlines the publications choose for them, and so it was Submerge that dubbed him the "Pride of Oak Park," not himself.

It turns out that the whole time people were protesting him, even as his celebrity grew, Lopes and other Sacramento artists and organizations were working with unhoused teens and young adults—many who call Oak Park home—helping them get professional recordings of their rap and soul songs. Even though he was clearly giving back to Oak Park, he never used that as proof that he wasn't culturally appropriating. He let everyone have their feelings, and quietly continued giving back to the community.

Lopes actually has roots in activism. He was part of the ZFG crew in Sacramento years before becoming a viral star. The crew is made up of spoken-word artists, rappers and other creative types. Andru Defeye, the founder of ZFG, recalls the first time he saw Lopes, an awkward kid who showed up to "The Most Open Mic in the City" at Sol Collective, a center in Sacramento dedicated to art, culture and activism. At first, Defeye saw the name "Hobo Johnson," which was listed on the sign-up sheet, and thought it was a joke name that a friend of his put on there to mess with him. But once Lopes got up to perform, Defeye was thoroughly taken with him.

"This new kid got up with this really awkward energy, anxiety-riddled, with an old keyboard. I knew eight bars into his first song that the world was going to love/hate him. He was polarizing from the very beginning," Defeye says. "While I fell in love with the vulnerability in the writing, even that night there was half the crowd that just didn't know what to make of it. I think that's just happening on a worldwide level now. People either love or hate him, and people hate what they don't understand, and I think a lot of people don't really understand Hobo Johnson."

I got to see several of Lopes early shows in Sacramento, both as a solo artist rapping over keyboard loops, and with his band. There was an incredible vulnerability to those shows as he put his awkwardness on full display, sometimes dragging out fuck-ups and almost overemphasizing his weirdness. It might seem counterintuitive, but the more he went with his onstage discomfort, people in Sacramento just fell more in love with him.

As I watch him at the Fillmore, it strikes me how different he's gotten. His band is tighter, almost aggressive in their renditions of the songs. Certainly, it's more rock-oriented. He seems less uncomfortable on stage, though still quite vulnerable. He still keeps it weird, though. He's currently lugging around a couch so that members of the Lovemakers can lounge on-stage comfortably when they're not playing in a specific song. Also behind them is a large canvas that's hand-spray-painted with the words "Hobo Johnson and The Bois."

He's been trying to make it even weirder, but has had some setbacks due to liability issues. He wanted to give away a 1994 Corolla at each show (a reference to his debut album), but wasn't allowed to. He also tried to revive a bit he did at his early shows: "Trap Macaroni," where he plays a trap beat and spoon-feeds the audience macaroni. Again, liability. What a buzzkill.

I always felt, even from the very beginning, he existed on the far outskirts of rap music. Now, after a summer of touring and refining his sound, the lines are even blurrier. "I'm starting to really feel like just a complete outsider to all of the genres. I don't fit in anywhere," Lopes says. "I don't feel like I fit into the folk-punk realm, I don't feel like I fit into the hip-hop thing, or even the indie-rock thing or the punk thing, even though I desperately want to."

In terms of his major-label debut later this year, he has mixed expectations. On one hand, he wonders if other media outlets will finally take him seriously once he has Warner Bros. attached to his name, and therefore not see him as an internet trend. On the other hand, he doesn't see much chance that his weird brand of music will get outside of this cult crowd he's created via the internet and word of mouth. But who knows, stranger things have happened.

"I don't think there are any songs that have the possibility of being on the radio. I don't really care. But if it happens, that would be sick," Lopes says. "The radio is so about escapism. And to put something good on the radio. I'd be super proud of myself to have something real get on the radio."

'Sweetener' is the album we've all been waiting for from the multi-talented superstar