The photographer paces nervously around the shallow end of a 10-foot-deep capsule-shape pool. "I can't swim," he admits with a raspy laugh that carries across the backyard of a non-descript (if tastefully remodeled) midcentury ranch house in the Los Angeles suburb of Pasadena. The revelation is shocking given that he's here to shoot a series of underwater nudes, one of which can be seen on the cover of this magazine. Right away, not all is as it seems.

But this is the beauty of the
life and work of Ed Freeman
. With his Caesar cut and silvery, speckled beard, it's hard to believe the Worcester, Massachusetts–born artist is 76 years old. His athleisure ensemble of Nikes, track pants and aviators contrasts with that of his longtime aide-de-camp, Carlos Gonzalez Palmieri, who strolls around the yard like an off-duty Rat Packer in a flowery button-down, a trilby and Wayfarers.
"Even though I'm still the boss, I sort of work for him," Freeman says jokingly of Palmieri. "All I do is make art."
Palmieri has indeed played a crucial role in turning Freeman's underwater practice "into a science," which today starts with positioning C-stands around the pool to capture every beam of California light. "This is our big secret," jokes Palmieri, barefoot, as he wraps the grip stands in foam padding. An assistant moves on to sinking polyester sheets into the pool for test shots while Freeman surveys the sparkling water with trepidation.
"We've tried 50 different ways of diffusing light, including a giant flag," Freeman says. "It's a square frame with a diffuser in it, but you really don't want a heavy 12-foot device hanging over models."
The pool area's blue accent tiles also provide a tricky reflection, but Freeman knows to cover them with dresser-drawer liners. "It's all very low-tech," he says. His equipment, not so much. Freeman shoots with a Nikon D850 (about $3,000) nestled inside an AquaTech water housing (another $1,600). With this apparatus and a 20-pound vest to offset his body's natural buoyancy, he submerges to snap as many as 18 models in underwater balletic poses. This explains the need for a shallow backyard pool versus an Olympic-size one. "Sometimes I can't get up," he says, "and I've had to have my models rescue me."
Most of the time, it's Palmieri who yanks him to the surface. Freeman moved his operation to this suburban locale in the summer of 2009. A longtime friend, a former California Institute of Technology professor who resigned because it wasn't intellectually stimulating enough, gave Freeman carte blanche to use the petite piscine. Although he lives 20 minutes away, in Chinatown, the Pasadena ranch has effectively served as his studio ever since. "I'm just really used to this," he says. "I have this real sense that some power beyond my grasp is running these things. I never intended for any of this to happen."
---
Freeman has spent roughly the past 12 years adding lyrical gravitas to the mythos of the southern California pool, which itself has been a recurring trope in postmodern art since David Hockney and
Slim Aarons
pushed it into the zeitgeist in the latter half of the 20th century. But producing otherworldly art in a modest backyard, featuring dancers—mostly female—whose poses could have been plucked from a Tintoretto or Rubens masterpiece, is the last thing anyone would have expected from the younger son of two Massachusetts Institute of Technology professors. His father taught statistical analysis and probability theory; his mother taught Russian and designed MIT's first language lab. "Everyone in the family went to either Harvard or MIT, except me," says Freeman, noting that his older brother is now one of the world's preeminent rare book dealers and scholars. "I was the black sheep."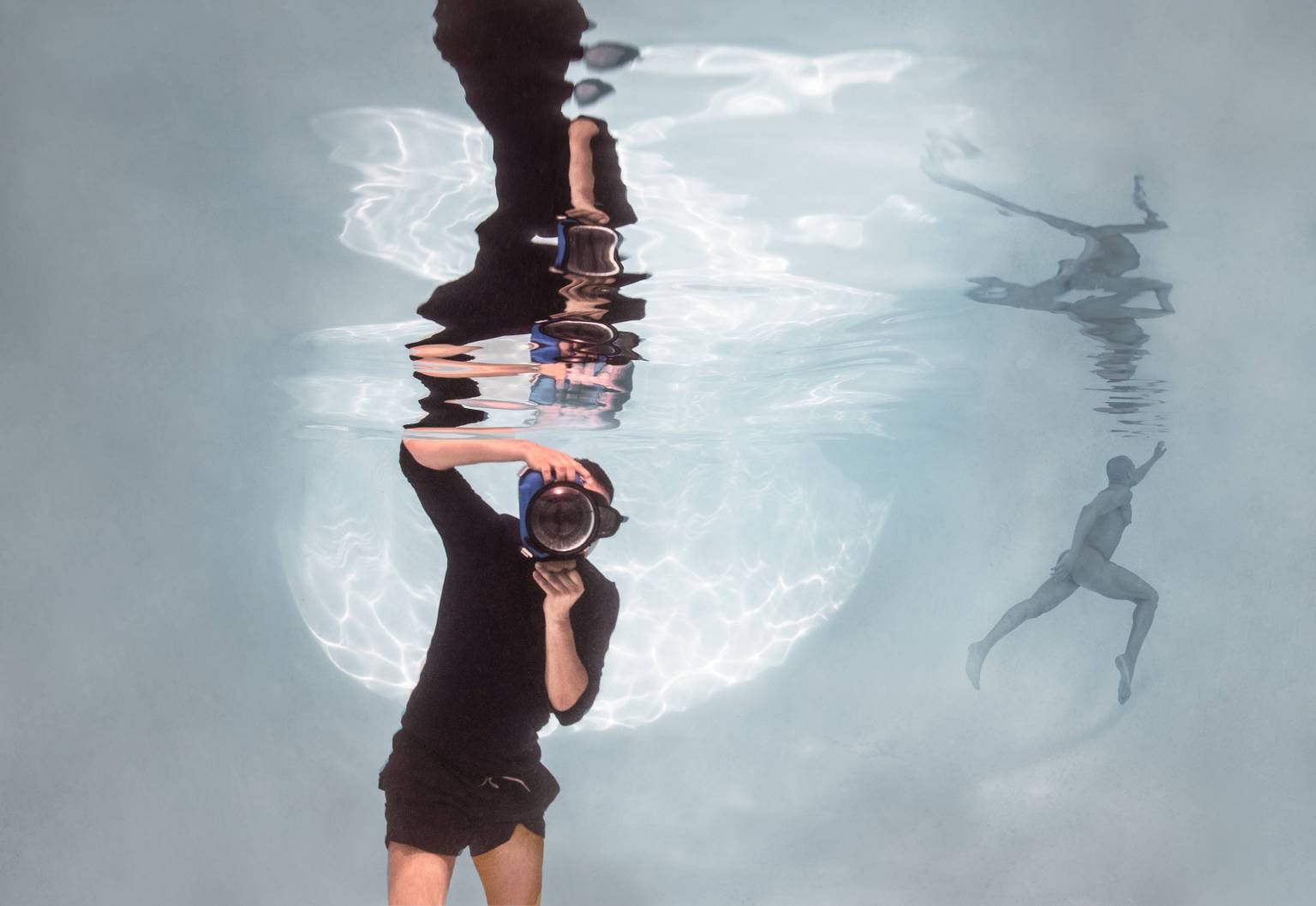 After living up to some expectations—Freeman played multiple instruments as a child and snapped photos for the local newspaper while studying at Ohio's Oberlin College—he abruptly stuffed what he could into a backpack and hitchhiked to Mexico the day John F. Kennedy was assassinated. It served as a finale of sorts in a series of micro-dramas. He didn't want to follow in his parents' academic footsteps. He was also gay and painfully in love with his best friend. "College just made no sense" after Kennedy's death, he says. "I walked out of class, and that was the last one I was ever in."

What came next was a "Jack Kerouac kind of trip—all this crazy shit happened." At the tail end of this drug-and-booze-fueled odyssey, a friend sent Freeman back to Massachusetts to sober up and reestablish himself. He began teaching folk guitar and eventually became a roadie for the Remains, who opened for the Beatles on their last U.S. tour. This in turn led to a stint as folksinger Phil Ochs's road manager.

"I got the job because people thought, Oh, he knows what he's doing. I didn't," Freeman says. He then began writing song lyrics. On the basis of one tune, his new band, the Joyful Noise, signed with Capitol Records and was flown to Los Angeles to live in a house (with naked groupies waiting poolside) at the top of Laurel Canyon, the enclave that was once home to Jim Morrison. "We recorded two songs and broke up," recalls Freeman. "I was broke, and the producer mentioned he needed an arranger. I barely knew how to read and write music, but he handed me a tape and said, 'I need a string quartet and two Bach trumpets tomorrow.' "

I want to express freedom within this notion of gender identity in the culture.

He proceeded to teach himself how to arrange that night, and he recorded the next day. Following the Summer of Love, Freeman moved to New York and arranged hits for Carly Simon and Cher. When he was diagnosed with Reiter's syndrome, a debilitating form of arthritis, his music career was put on pause. He discovered medicinal relief in 1978 after relying on crutches for a year, and moved back to Los Angeles to teach composer Dominic Frontiere how to program synthesizers. While the money was good enough that he was able to buy a home of his own in Laurel Canyon, Freeman soon realized he was no longer interested in music.

He traded the house for a downtown loft and started taking head shots for pocket change. He honed his artistic sense by shooting conceptual nudes abstracted by bent plastic mirrors. He exhibited the semi-surrealist images in a neighborhood café, and he hasn't stopped since. Along with years of shooting in his studio—including many images of digitally enhanced angels, cowboys and lovers, some of which are featured in his 2000 monograph Work—Freeman took a number of road trips with groups of models to the Salton Sea. There, Freeman remembers "moving farther and farther away until I was so far you couldn't even see the model. So I thought, Fuck it, I'll just shoot landscapes."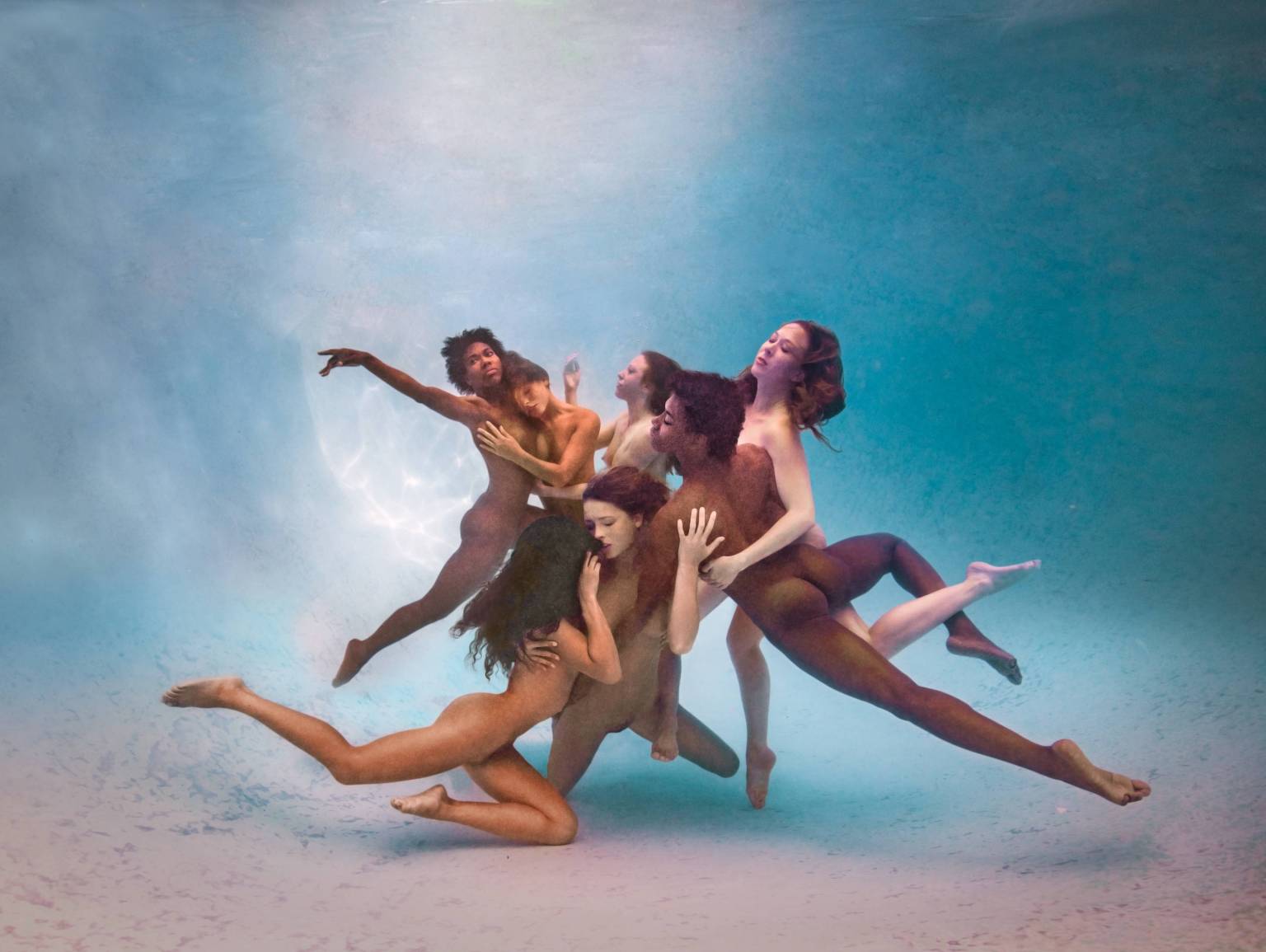 He eventually transitioned from nude photography to revitalizing abandoned buildings and road signs across the southern California desertscape, including the Sundowner Motel marquee near Salton City and La Fiesta Ballroom in Bakersfield. That resulted in his Desert Realty series and a book of the same name. In 2007, on the heels of his spin-off Urban Realty series—think surreal images of a Walmart in Palm Springs and a Panda Express in Albuquerque—Freeman was sitting at a Starbucks when another, greater truth sat beside him. He chatted up an attractive male dancer who, he learned over his latte, was a former college swim team captain and had a pool at his home in Los Angeles's South Bay.

"When the universe speaks that loudly, you'd be a fool not to pay attention," he says. The pool was blanketed in filth blown in from the nearby train tracks, but Freeman nonetheless bought a waterproof camera bag for $35 and dove in. Those early underwater images inspired the dancer's friends, some of whom were also dancers, to pose for Freeman too. "It kept growing to the point where two dozen models were just hanging out. And that's really how this all started," he says.

---
The day after we meet, Freeman makes his way back to the pool, outfitted in his makeshift technical gear. His goal over the next eight hours is to prove that the subversion of the male gaze (with help from a submarine lens and some post-production digital manipulation) is a fitting conceit in 2019's woke-as-fuck environment.

I think there's an advantage to my being gay in that I don't want my female nudes to be sex objects.

"I think there's an advantage to my being gay in that I don't want my female nudes to be sex objects," he tells me. "I want them to be about grace and movement." He welcomes seven models—five women and two men—to the pool area. The models move and behave as though they inhabit this slice of suburbia full-time, and as though a crew of strangers aren't watching them. One scarlet-maned woman repeatedly and patiently glides and jumps into the pool at Freeman's direction. She stops swimming only to listen for the next instruction, unfazed by a topless peer practicing sun salutations on the other side of the yard.

Thirty minutes later, Palmieri nods to one of the male models. He disrobes and stands beside the water, calmly baring his phallus and waiting for his turn to dive in. Although Freeman has convinced the men to be part of this PLAYBOY cover shoot, he offers them no guarantee they'll make the final cut. "But," he tells me, "if I have anything to say about it, they will."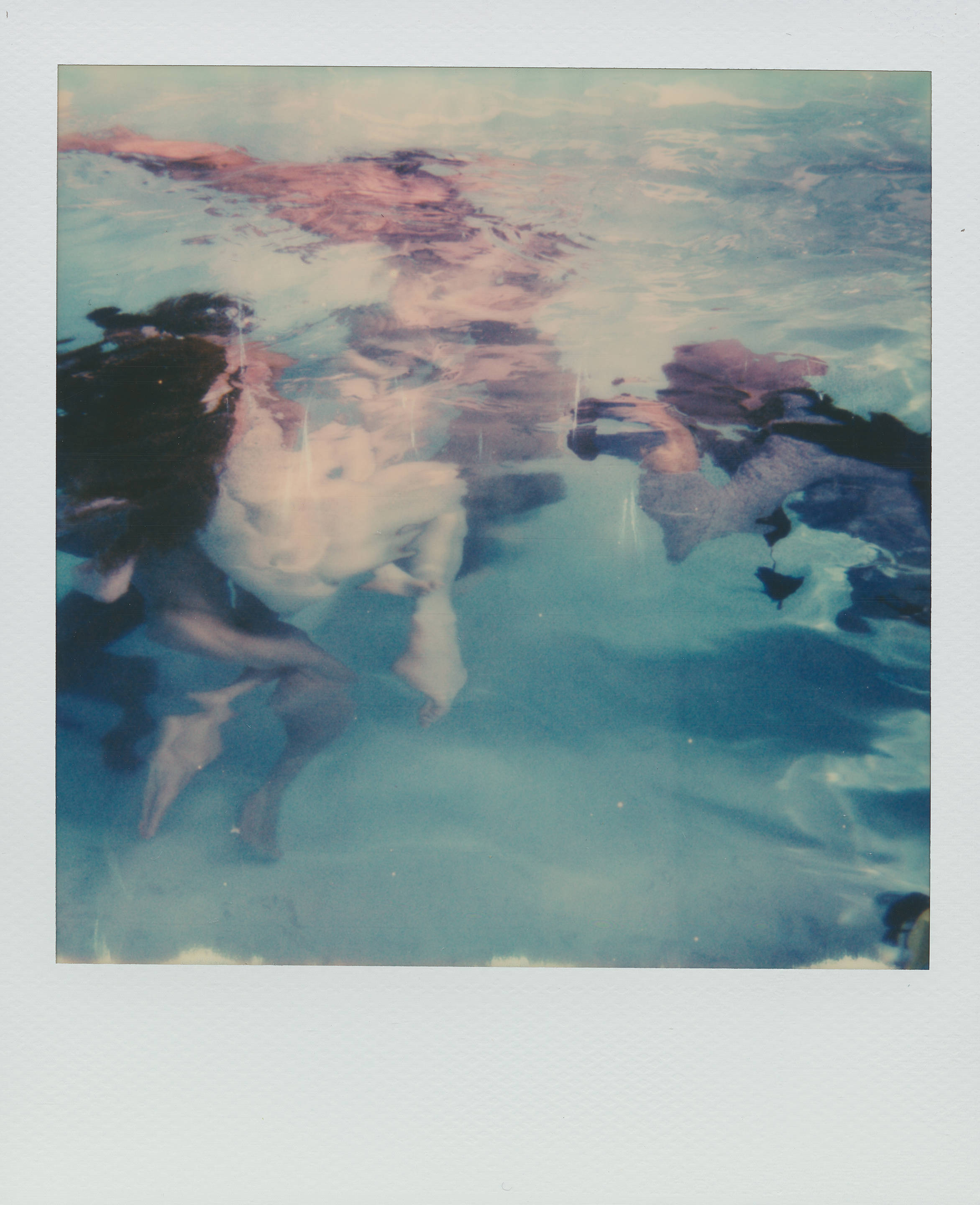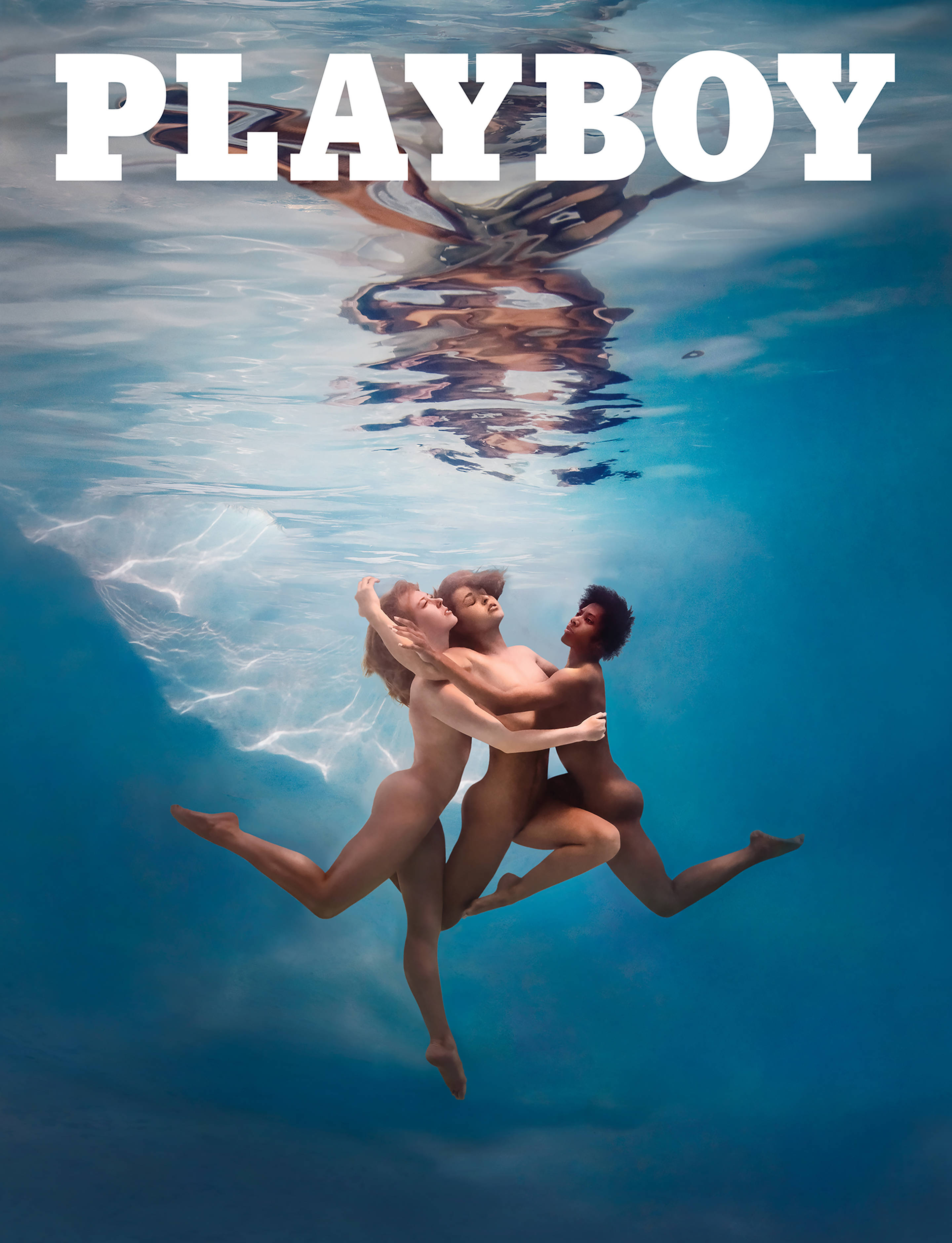 Toward the end of the day, all seven models are told to submerge themselves and cradle one another. "I want to express freedom within this notion of gender identity in the culture, which is very much about an upward and outward movement," explains Freeman. "So this is not going to be pictures with people diving downward." Freeman instructs them to point and arch their collective extremities. Simultaneously, they all look up at the fading sunlight. The shutter clicks.

"A lot of people tell me, 'This reminds me of Renaissance paintings,' " he says. "That's probably because those paintings were of gorgeous bodies. They weren't sexually interacting; it was just about the beauty of the human form—and that's really what I'm about."

RELATED CONTENT
Ed Freeman's photography graces the cover of PLAYBOY's Summer 2019 quarterly, "On Gender and Sexuality." The issue hits newsstands on June 18, 2019.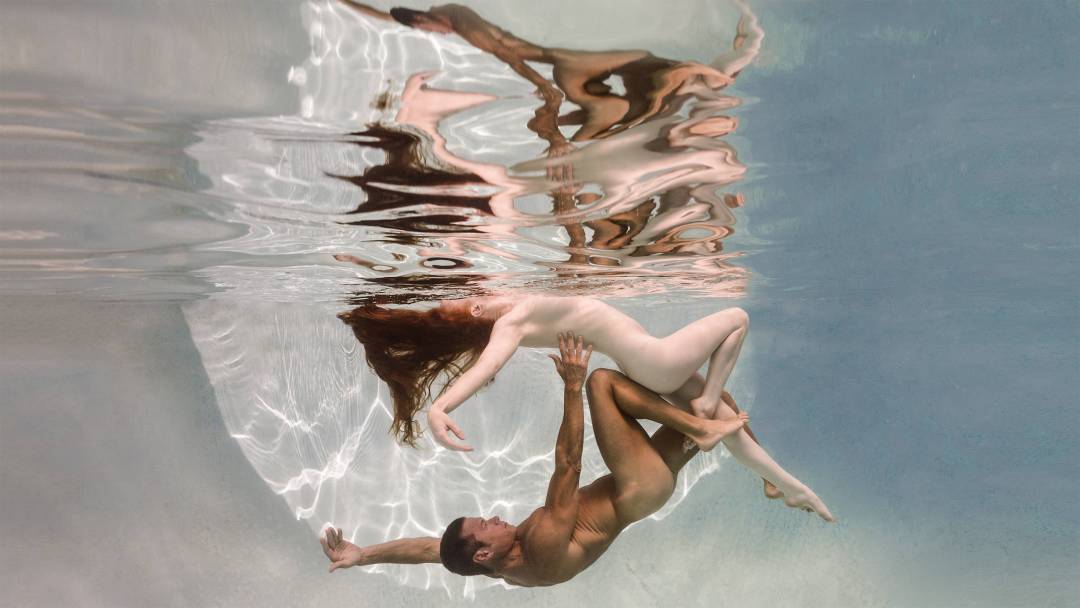 Our Summer 2019 quarterly celebrates the power of diverse identities