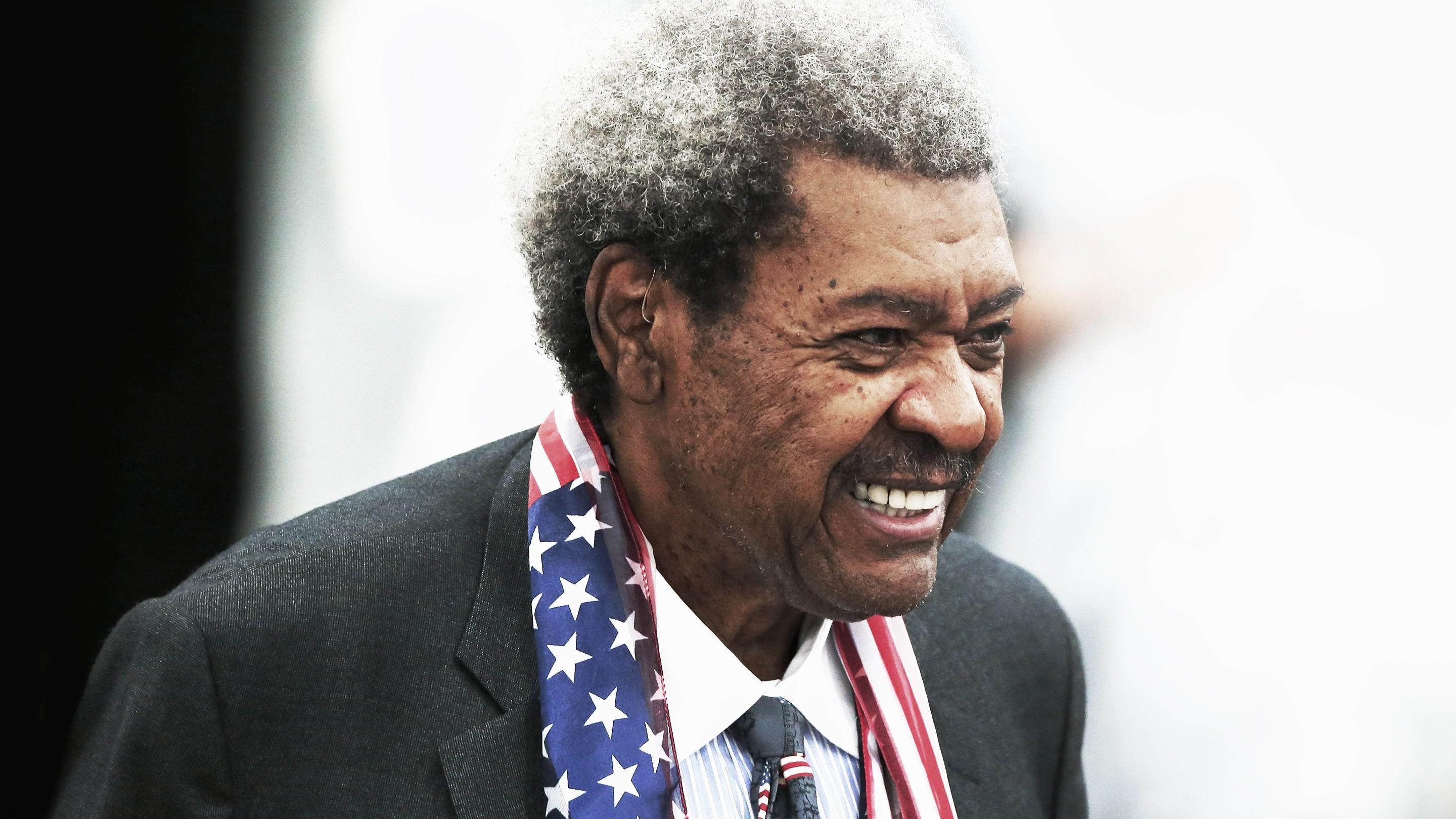 Don King, Firmly in Trump's Corner, Is Still Fighting and (Mostly) Loud as Ever
Written by Benjamin Block

Published on

May 04, 2018
Squeezed into the elevator of the Stewart Hotel in Midtown Manhattan, we rode up in silence. The absence of sound only grew louder as we peeled out of the confined space and trudged down the poorly lit hallway. I started to think, "Is this how a fighter feels on their walk to the ring?" There's no small talk. We're flanked by his handlers. I suddenly become very aware that this man, who at one time loomed larger than boxing, has killed two men in his life—one deemed as self-defense; the other, a manslaughter conviction that led to a four-year stint in prison. We arrive at the last door on the left. One by one, we file in. The windows are shut, the shades are drawn and the heat is pumping. It's unusually chilly for a mid-March day in New York City, so the stark contrast in temperature feels good. The accommodations are painfully ordinary, but that dissipates quickly, as Don King is anything but ordinary. And he's got a lot on his mind.

At nearly 87 years old, King is still traversing the globe, promoting fights. However, both King and the fights that he has produced over the last decade have been mostly irrelevant. The octogenarian hasn't stopped hustling, but does consider himself semiretired. King clings onto a current stable of fighters—none of household-name variety—like a person trying to hold a fistful of sand.

Yet on Saturday, May 5, under the night sky at the StubHub Center in Carson, Calif., one of his fighters—Vanes Martirosyan—will oppose six-year title defender and middleweight champion Gennady Golovkin. This fight was a last-minute arrangement, and never supposed to happen. Golovkin was scheduled to fight Canelo Alvarez in a rematch from their controversial draw last September, but Alvarez was suspended after two failed drug tests for a banned performance-enhancing drug. Team Alvarez's loss has been King's gain, and this may be the platform that launches King back into relevance.

But back on that blustery March day, before King knew this opportunity with Golovkin would fall into his lap, he was in Madison Square Garden talking up a fight between his guy, Amir Imam, and Bob Arum's fighter, Jose Ramirez. To no surprise, King and Arum—career-long rivals—were the real attraction. The pair hadn't co-promoted an event since 2011, and in the world of big-time boxing promotion over the past 10-plus years, King's stature has steadily declined, while Arum has thrived.

King soaks up the fading limelight. He's clad in about five or six diamond-encrusted chains strewn over a white button-down shirt and a necktie that looked as if it could had been fashioned out of the American flag. His once-electrifying hair style, which is more salt than pepper now, is far tamer. A faded but bedazzled jean jacket drapes over his still-sturdy 6'2" frame, and he's holding a dozen or so flags from countries all over the world.

Fans and journalists alike crowd him for selfies and try coaxing him into belting out his catchphrase, "Only in America!" There's an unspoken bond among everyone there that King's day in boxing has passed him by. But nobody leaves unentertained.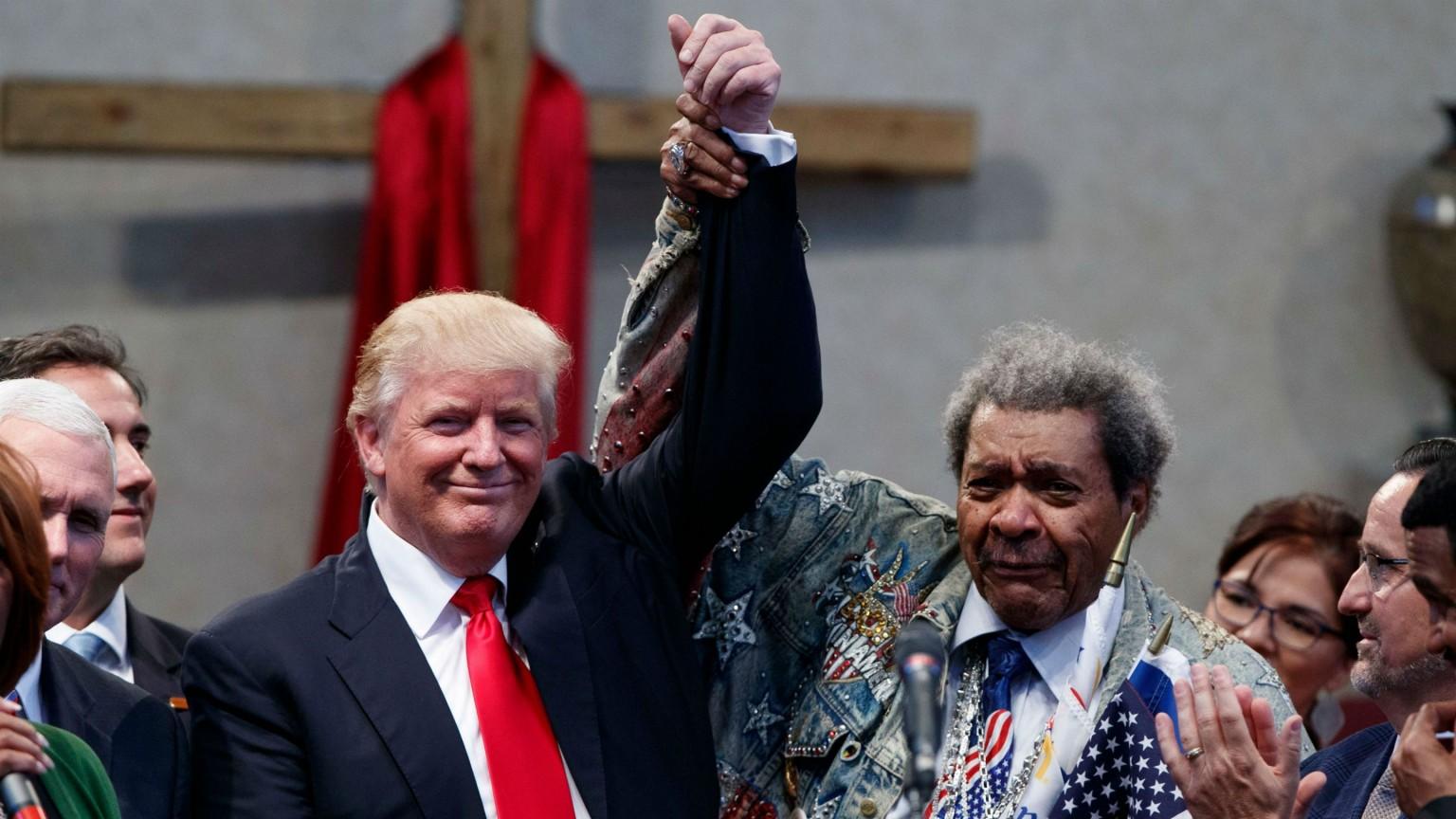 Once settled in his hotel room, with the intent of finding out his thoughts on being back in the Garden and sharing the spotlight with Arum again,
Playboy
asks King, "What do you feel like after just going through that?"
"It's the system. The system of white supremacy, hate and valence," King shoots back, as if he were asked an entirely different question. Boxing is the furthest thing from his mind, and he interprets the question as an opportunity to explain that he's consumed by trying to understand what causes racism, divisiveness and the isolated incidents that have been occurring across our country. And to King, Arum seems to underscore some of his frustration.
"Bob Arum—he's white, a Harvard graduate," King explains. "He's a guy that was a prosecutor that would put you in jail for taxes, whether it was unjust, unfair or fair. And you take Don King—an ex-convict, an ex-number runner—and if you put it on a chart to see who would be most likely to succeed, it'd be Bob Arum, 100 to zero. Yet if you put that chart up, it's Don King beat up on Bob Arum on everything he ever tried to do. And [Arum] never realized how I do it because he is running with the system, and I understand the system."
King's unprovoked and defensive nature stems from people's perception of him. "Write it, man! Just tell it like it is," King urges. "I'm already stamped a liar before I open my mouth," he bellows. But then in that unmistakably double-talking manner that he's perfected over the years, King quips, "And as phenomenal as my career is, I have to give them credit, I wouldn't believe it neither."
Words like "them" and "they" are fixtures in King's Cleveland-bred vernacular. "When I say 'they,' that means all the different things that apply to the system," he explains. In reference to his constant fight against the system, King reveals, "You gain more strength." He adds, "The anger is energizing because you're fighting for righteousness."
---
King has taken virtually all his energy—similar to the gusto he used to exercise as the promoter for boxing legends Muhammad Ali, Joe Frazier, George Foreman and Mike Tyson—and channeled it into support of President Donald Trump. "We're breaking down the system, and it's time for change, and this is what God has blessed us with in Donald Trump," says King.

While he acknowledges that Trump is "not a saint," King echoes the urge for change that many in this country have cried out for. And like the masses that voted him our 45th president, King sees Trump as the best vehicle to achieve change, in spite of Trump's very ugly and public missteps.

King's support, as he explains, comes from all the business he did with Trump in the 1980s, staging fights in his New Jersey casinos. King says he can relate to the real estate mogul-turned-reality-TV-star-turned-president on the basis of an "ability to eradicate failure." King, who has been castigated for as long as he's been in the public eye, knows from not being the most popular man in the room. "When Trump was running for president, I told him, I say, 'You know what, now you gonna learn what it is to be treated as a black man.'"

When Trump was running for president, I told him, 'Now you gonna learn what it is to be treated as a black man.'

And having followed his presidency closely over the past two years, King feels his message has proven to be true for Trump. "Now he understands. He's guilty as hell no matter what he does, until proven innocent. It ain't the presumption of innocence until proven guilty."

However, these feelings of anger and insecurity aren't just extensions of King's promoting persona. From listening to him talk about growing up a poor black kid in a segregated Cleveland, it is evident that the views he harbors today were embedded in him long ago. "I wanted to be a lawyer. I wanted to be Clarence Darrow," King smiles, recalling how that was his dream as a young boy.

Referring to himself as a "fatherless kid," King laments, "I never really got the chance to know my father." The same day that the Japanese bombed Pearl Harbor—December 7, 1941—King's father, a steel worker whom he rarely saw to begin with, died while working at the Cleveland mill Jones and Laughlin when an accidental explosion occurred. He passed away the next day as a result.

Spending his formative years as one of five brothers and one sister, King learned from his widowed mother that he'd have to hustle to make ends meet. So he sold pies and peanuts at the policy house. And it was around then that he realized his proclivity for numbers. "I got accepted into Kent State University. I didn't have the money to go to school, so my brother told me to help him out. And he had a numbers business—a route," King recalls.

All these years later, King maintains that he only started working as a bookie with the intention of earning enough to cover the $600 tuition at Kent. After earning the money, a paperwork mistake at work forced King to spend his $600 to cover the gaffe, thus losing his entire savings. King's boss claimed he wanted to see King leave behind the numbers life, and yet refused to help him with the missing money. "I started learning of that duplicity of a smile in your face, but 'I want to keep you in your place.' That stopped me from going to Kent," King says.

To this day, King swears that his issues with trust trace back to that singular moment, over 70 years ago. "One thing I do is I don't lie. And that's why I resent and repudiate people around me that lie." He adds, "You can't lie and make excuses."

---

The other major instance in King's life that further cemented his disdain for the system, is rooted in the events that led to the death of Sam Garrett, an employee of King's when he was Cleveland's numbers-running kingpin. "They say [Sam Garrett] robbed a gambling house for $600. All that is lies. All that is lies," King barks, reliving that fateful day of April 20, 1966, as if it had happened yesterday.
Those [Parkland] kids are a darling of my heart because they are practicing what we preach. The politicians we got do not practice what we preach.

Everything stemmed from a bet that King had placed with Garrett, in which Garrett had neglected to pay King $900. King says he told Garrett to forget about paying him and that they should just go their separate ways, upon which he says Garrett jumped on his back and "called me a Mickey Mouse motherfucker, and started beating on me." King remarks that their fight was "frustrations of the ghetto expressing themselves."

King glosses over the death of Garrett as if he were retelling round-by-round highlights of a boxing match, but he had gruesomely and repeatedly stomped Garrett's head against the curb until cops arrived and restrained him. The autopsy report that was taken confirmed, among other things, that Garrett suffered skull fractures resulting from several blunt impacts. Garrett slipped into a coma and died five days later. (King was convicted of nonnegligent manslaughter and served nearly four years in prison; he was later pardoned.)

King, however, remains adamant that he was merely fighting back to protect himself. "The fact is, it was self-defense, but there was a difference between being black and being white at that time," King says, indicating that because of the Cleveland riots going on in 1966, the system saw an opportunity to make a statement by incarcerating a black man who was a well-known bookmaker to boot. "It's still the same thing [today] why the blacks get shot down, unarmed with impunity and no consequences. Now the white kids are getting shot down, the same thing, but it ain't the same. But they can't do nothing about it," says King.

"How can you justify buying an AR-15 at 18, and to get a six-shooter, you gotta be 21?" King, a card-carrying NRA member, asks. King says he's been encouraged by the actions taken by the students of Marjory Stoneman Douglas High School. "Those kids are a darling of my heart because they are practicing what we preach. The politicians we got do not practice what we preach."

Consumed by conflict these days, King says that it is something Nelson Mandela told him many years ago that drives him and keeps his fighting spirit alive. "He said, 'You did a lot for boxing, but you can do more for peace.'"